Parsi Dhansak Masala
"Finally, I can make my own Dhansak at home. Great to add everywhere else too"
Regular price
Sale price
$15.00 NZD
Unit price
per
Traditionally used for an ancient Parsi dish, Dhansak (lamb & lentil stew) this unique spice blend is a family secret and not something you'll find at your local Indian shop.

Dhansak Masala is a spice blend unique to the Parsi Zoroastrian community that settled in India after their ancestors were persecuted in Iran about 1300 years ago. It's an all-in-one spice blend that contains half an Indian shop's worth of spices! What's unique about it is that it combines spices used in both Persian and Indian cooking. 
Like Garam Masala, every house will have its own closely guarded Dhansak Masala blend. This is the one I inherited from my grandmother Dolly. The main notes in our blend are of earthy cumin, zingy coriander and woody cinnamon with a hint of chilli. 
Our Dhansak Masala blend is made fresh to order which gives it a superior aroma. It's made with 100% natural spices and contains no added preservatives.
The best way to use your spice

An all-purpose spice, Dhansak Masala is superb in vegetarian and non-vegetarian cooking. If you're cooking Dhansak, it's all you need to add to your lentils, except for some extra chilli if you want it. It's strong flavours of coriander and cumin also make it great for sprinkling on pastas, salads, roasts, barbeque, yogurt and in any food of your choice.
Ingredients

coriander, cumin, red chilli powder, cinnamon, bay leaves, pepper, cloves, black cardamom, green cardamom, star anise, nutmeg, fennel, turmeric, fenugreek seeds, fenugreek leaves, black stone flower.
Storage

The spices come packed in a sealed zip-lock bag. Please empty into a sealed container to retain the aroma and flavour. Store in a cool, dry place.
Tell your friends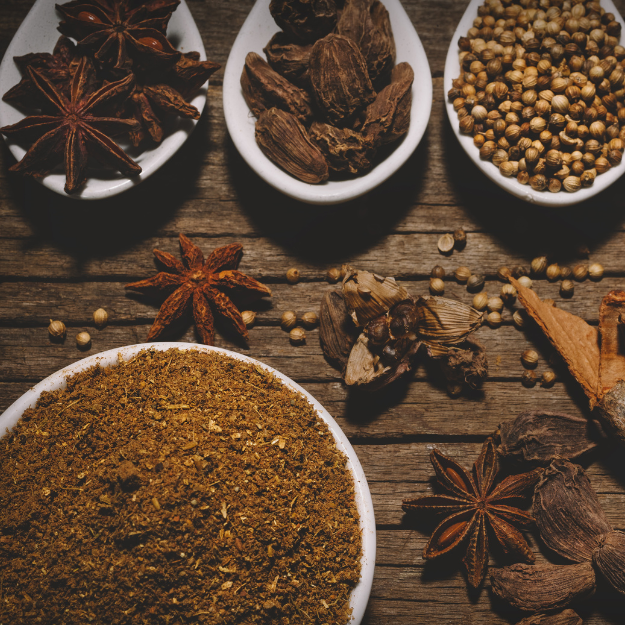 Must have!
This is hands down one of the best spice blends I've come across. A secret weapon of flavour!