Spiced Ghee
"Ghee reminds me of my grandma's cooking. I use it for basically everything"
Regular price
Sale price
$17.00 NZD
Unit price
per
Our Spiced Ghee is also better known as tadka or tempering. Made with locally sourced ghee, our tadka can be used anywhere you'd normally use oil or butter. It is especially magical in soups, dahl and stews.
Wheat free | 100% Vegetarian
How to use
Our tadka can be used in any dish that normally calls for oil or butter. It tastes delicious in soups, with eggs or to roast vegetables where our tadka will add a hint of flavour and lots of creaminess. You can also use it in savoury baking where you'd like a hint of spice like muffins, scones etc. 

View our collection of ghee recipes to get you started.
Nutrition
Ingredients

Ghee (clarified butter), curry leaves, red chilly, cumin seeds, mustard seeds, fenugreek seeds and nigella seeds.
Allergens: contains dairy.
Serving Size

275 gm | Use about 2 tbsp (30gm) in dahl/soups for two people.
Storage

Store in a cool dry place at room temperature. Use a clean spoon every time. Made fresh to order with a shelf life of six months.
Tell your friends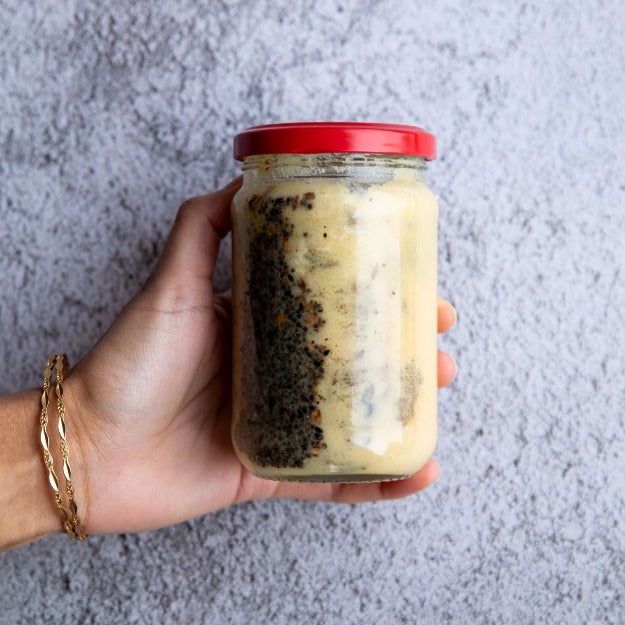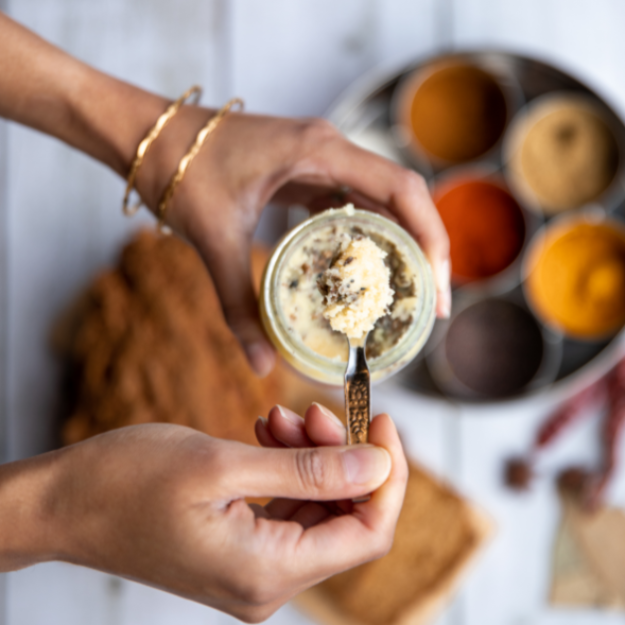 Highly recommend!
Delicious, makes everything taste better. Great base for curries, but we use it for lots of other cooking too.
Ghee - I had no idea!
I didn't really know what to expect as I've never used Ghee in cooking before but I'm glad I tried it. It adds several flavour dimensions to a simple dish and has enough clout to cut through even very rich curry pastes. Compared to using an oil, the Ghee adds the buttery goodness that you get when you fry a steak in butter. Reminds me of MY grandma's cooking. :-)